The 'My iCalendar' function will allow you to sync your Eploy calendar with your Outlook email account. It will also work with Gmail accounts, Hotmail accounts and also be opened to view in Google Chrome. This will give you visibility of all your Eploy actions in the same place.
Setting up My iCalendar in Google Chrome
In order to access the My iCalendar function in Eploy you will need to be logged into your Eploy user account and your Outlook email account.
Click on the "Account settings" icon in the top right-hand corner of the screen, and select 'My iCalendar'

When presented with this request box click on 'Launch Application'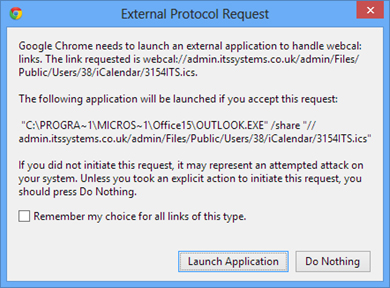 Within a few seconds you should be presented with a Microsoft Outlook request box. Click 'Advanced' first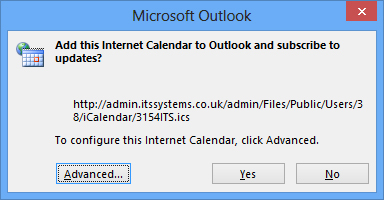 This will allow you to update the name of the calendar. You can also copy the location by highlighting it and pressing Ctrl + C, and then paste the link into a blank email…  
http://admin.itssystems.co.uk/admin/Files/Public/Users/38/iCalendar/3154ITSS.ics
You can then send this link via email on to colleagues who you would like to also be able to see your Eploy calendar in their own outlook
Then click ok, to back on this 'Subscription Options' tab
Then click 'Yes' to allow the calendar to be added to your outlook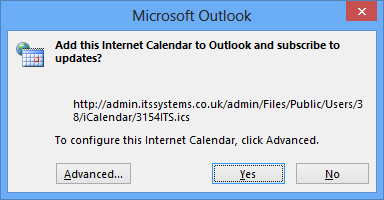 The calendar should then appear as added in your Outlook, and be visible alongside any other calendars you already have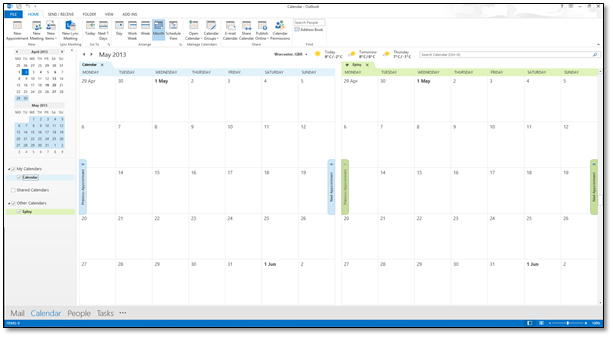 Sharing your calendar
If at a later date you wish to share your calendar with another user you can retrieve the address by right clicking on the My iCalendar option in the file menu and selecting 'Copy link address'.
webcal://admin.itssystems.co.uk/admin/Files/Public/Users/38/iCalendar/31.ics
You can then paste this link into an email and send it to others for them to be able to add your calendar to their outlook view

Alternative Instructions for different browsers
Internet Explorer
Follow the same instructions as above, with the exception of clicking to allow in the first instance


Mozilla Firefox
Follow the same instructions as above, with the exception of clicking send to 'Microsoft Outlook, and ticking 'Remember my choice for webcal links' in the first instance