From liaising with hiring managers and trying to understand their hectic schedule, to contacting candidates and managing their availability, arranging interviews can often be a labour and time intensive part of the recruitment process.
With Eploy's new Interview Slots & Day Planner, you and your hiring managers have greater control over availability across multiple roles and locations, whilst candidates can pick and choose the times that suit them best.
Managing Slots
Because an Interview Slot can transcend a vacancy, our slot creation and selection process will allow you to make time available against multiple jobs. This means you can plan your time across your entire workload and once a slot has been filled, that time is then allocated for all the assigned vacancies – avoiding duplicate slots or getting double booked.
To begin managing your slots, click Live Vacancies and select either a Workflow or individual Vacancy. Within the grey menu bar, click Calendar. This will open the calendar for this vacancy / workflow and allow you to Create Slots in the top left hand corner, or review any existing slots that have been set up / allocated.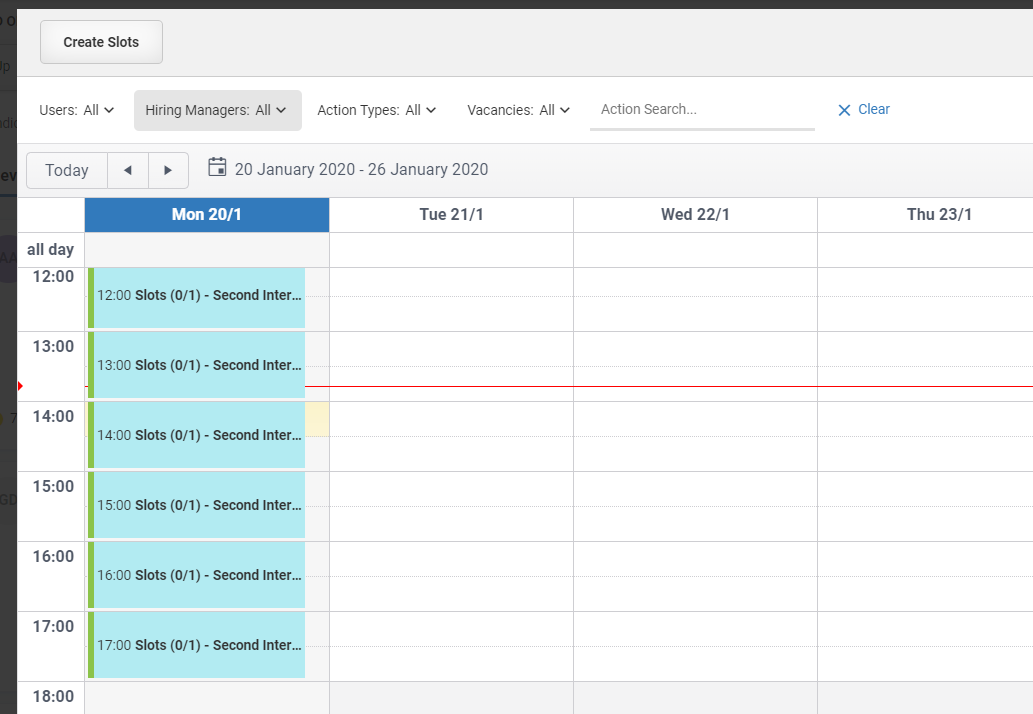 From within the Calendar, you are able to drag actions to different time slots, filter for specific vacancies or Hiring Managers or even double click a time to insert a new action. You can also click existing actions to see a summary, update outcomes and manage applications.
Create Slots
When you click to create new slots, you can configure each slot as required:
Create Slots – This setting allows you to create either single or multiple slots. If creating multiple, the form shows additional settings.
Start Date – This should be the date and time of the first slot you wish to create.
End Date – This will allow you to create events that last more than one day.
City (Time Zone) – This setting is for creating slots to take place internationally – the date and time will update to the selected time zone.

If Multiple:
Create Slots From – This will be the first slot in the series of staggered interview slots.
of candidates to assign to each slot – For individual interviews, this should be set to 1, whilst assigning multiple candidates will create multiple individual slots (one for each candidate to assign).
For example, if you wish to assign 5 candidates for each slot, the schedule will create 5 slots for the same date and time. This can be effective for assessment centres or group interviews.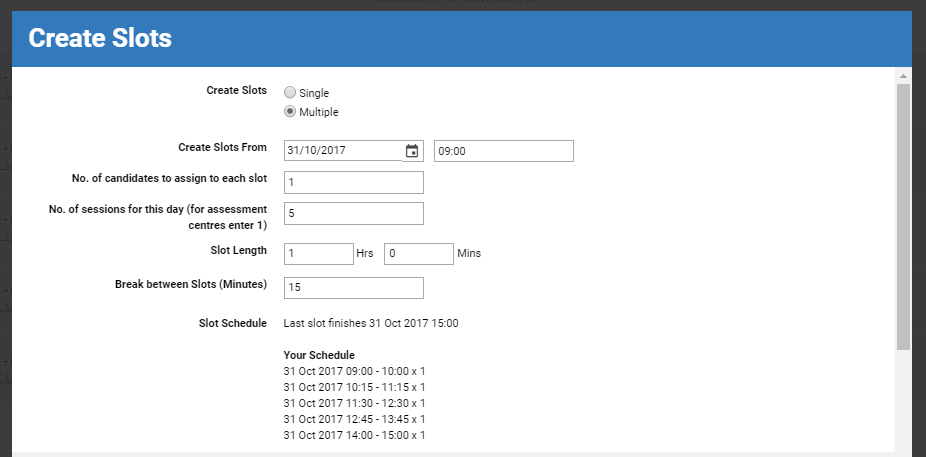 of sessions for this day (for assessment centres, enter 1) – This will dictate how many staggered sessions are created throughout the day.
Slot Length – This is how long each interview slot is to last, broken down to hours and minutes.
Break between Slots (Minutes) – When creating staggered interview slots, this will add additional breaks between each slot.
Slot Schedule – This will show you a preview of the schedule / day planner. Adjust the settings above until the schedule is correct.
Slot Details (Single & Multiple Slots)
Now that the schedule has been set, you just need to confirm the slot details, such as location, interview type and assigned vacancies:
Slot Action Types – This will default to the stage of the workflow where the slots are being created. You can add additional action stages to this if you want these slots to be available throughout the workflow.
Slot Vacancies – This will default to the vacancy that you are working on, but will allow you to add additional vacancies. By assigning multiple vacancies, these slots will be available for those roles until filled by one candidate on one vacancy.
Active – This is a default filter, showing only Active Vacancies
Users – This is a user filter, showing only the vacancies assigned to the logged in user.

Location – This will default to the address of the company that the vacancy is assigned to. By clicking select, you will be able to choose from a list of associated locations – i.e. from the vacancy or the company structure. If none of these locations are suitable, you can use remove and then simply free type the location. This can be really useful for causal or informal meetings or interviews, which may take place in a local coffee shop etc.
Users – This will allow you to make these slots available to other users, by assigning them to the slot. If they are using the iCalendar feature, these actions will then be added to their calendar as appropriate.
Hiring Managers – This setting will allow you to add any additional hiring managers to the interview slot. Any hiring managers assigned to the vacancies that the slots are created against will already have access, so this field should be just for additional hiring managers.

Other Attendees – This free text box will allow you to detail if anyone else within your database will be part of the slot, even if they are not a hiring manager.
Allow candidates to select this slot – This will make the slot active and available for any candidates who reach the assigned stages on the assigned vacancies. If you do not want to make these slots immediately available, you can leave this unticked until you are ready. This can be particularly useful if you are setting up your availability at the start of the recruitment process, but are not ready to commit candidates to each stage.
Once you click save, the slots will be created based on your settings. This will then display those slots within the Calendar, allowing you to click each one for a summary of the location, places available and the active status.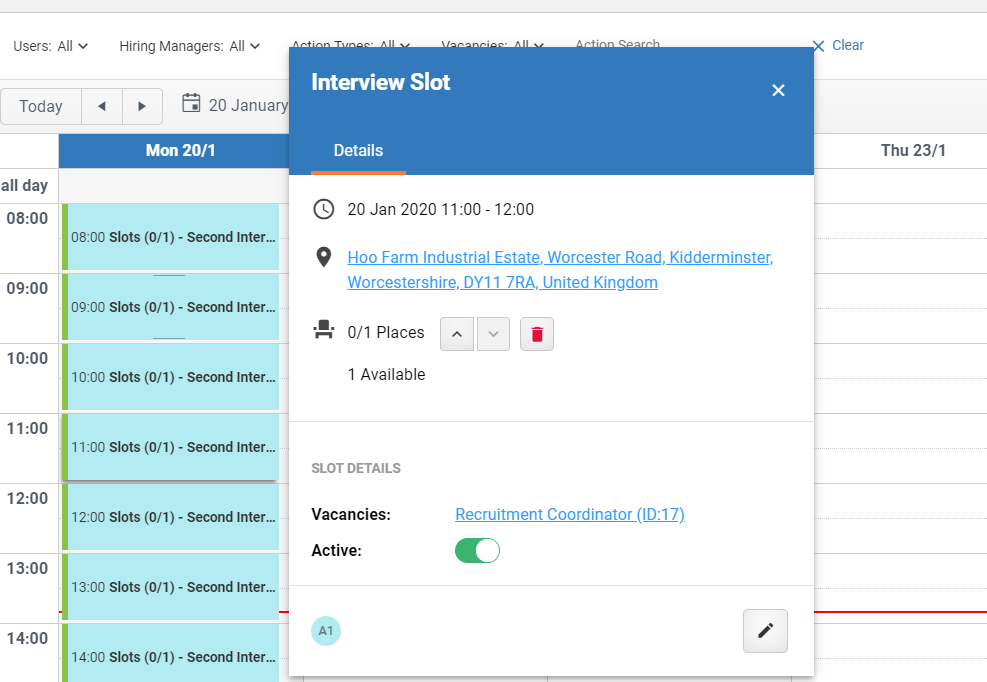 Once slots have been created, all you need to do is move the appropriate candidate to that stage of the workflow. From there, you can either choose to assign a slot to each candidate or invite the candidate to select their own slot in the candidate portal (if applicable).

Automate Interview Slot Selection, Notification & Deletion (Advanced)
As part of Eploy's new Application Workflows and Interview Slots, you can now fully automate the process of inviting candidates to select their own available interview, as well as all the invite / confirmation emails. When the time comes for the interviews to take place, the unselected / free slots will then be automatically deleted, keeping your schedule neat and tidy.
To set this up, you will need access to your Application Workflows and have all of your templates set up for automatic notifications. If you follow these steps, you can help reduce your admin by automatically sending emails and confirmations, allowing candidates to self-select their preferred slots and have all empty slots deleted automatically.
As part of Application Workflows, you need to ensure that you have workflow automation active for any stage you wish to use interview slots. This will mean that emails are triggered directly to candidates when they reach a stage of the workflow. For interview slots specifically, you will want an interview slot invite email template (which can be configured within Email Templates) to be sent when a candidate reaches the stage, but does not have an action created for them (i.e. are not already assigned to an interview).
Note – As part of the email template, you can prompt your candidates to access the candidate portal (if applicable). This will allow them to select an available slot for their stage of the workflow, which will assign them to the selected slot. In the core system, this will then show as a booked interview, rather than an available slot. If you do not have a candidate portal, the candidate can respond to the email before being assigned to the slot manually.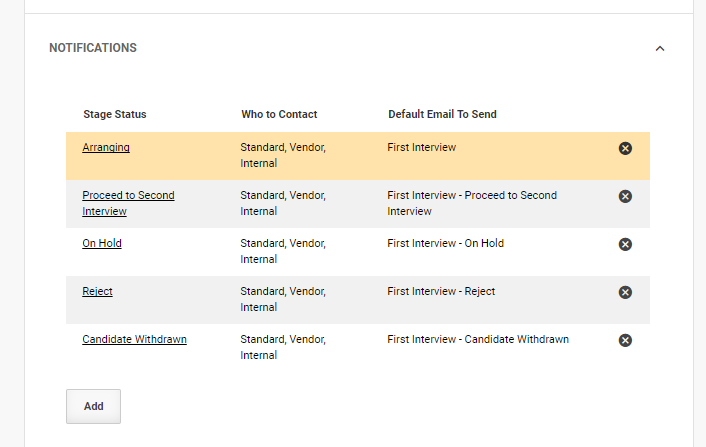 If you click into the notification, you can then configure which template is sent as well as the default sending options – i.e. when the candidate reaches the stage.

Once this has been configured, you can then repeat the process for a Confirm Stage Status, which will allow you to trigger an email once the slot / interview can be confirmed.
Following on from the notifications, you can also set when unselected slots are removed from the system, by clicking into the Action Stage of the Application Workflow.
This will allow you to set Slot settings, which include how long before a slot is due to start that it is still available to potential candidates, whether candidates can change their own slots and the time frame in which a slot is auto-deleted.

Note – For a full detailed guide on configuring Application Workflows, please see HERE.
Now that the automation of the emails, both invite and confirmation, and the deletion of empty slots is in place, you can create your interview slots and allow Eploy to take care of the rest of that laborious admin!