Once you and your hiring team have outlined your availability and created a series of Interview Slots, you can then put the onus on the candidate to choose their preferred slot. This is all now possible with Eploy's Interview Slots, even if you don't have an Eploy powered Candidate Portal.
Pre-requisites
For a candidate to be able to select their own slot, they need to be moved to the appropriate stage of the workflow and have available interview slots. 
Invite to Interview
Once you have candidates at the appropriate stage of the workflow, they will be shown with Action Not Created and you will have the option to Select Slot or create action.  Note, these options are displayed when viewing the Vacancy in Tab view.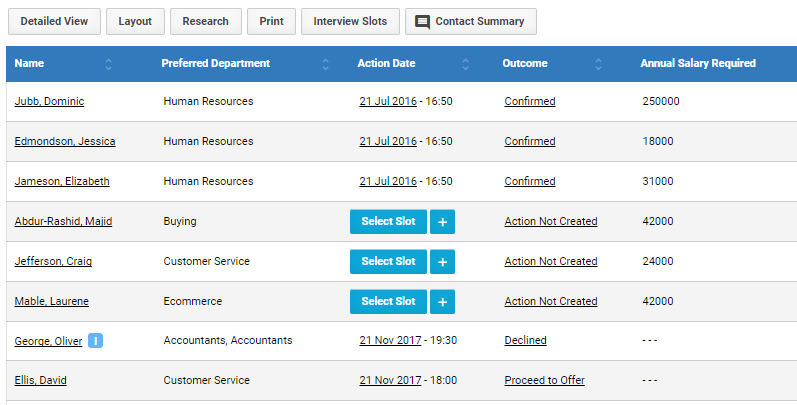 Note – Any candidates already assigned to an interview or a slot will not be able to select another within the portal. However, they can confirm or decline the assigned interview using the same process.
Candidates at this stage can now be invited to choose their own slot, through the mail merge tool. To do this, click Contact Summary and click Contact under the Action Not Created section.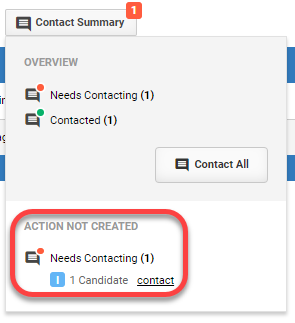 This will then load the mail merge screen, where you can configure the content of the email or load a previously prepared template. Once the email details have been entered correctly, you then need to include a special merge field, which will include a link for the candidate.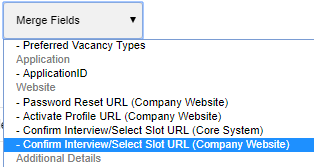 The merge fields are:
Confirm Interview / Select Slot URL (Core System) – This will include unique link for each applicant, where they will be able to view available slots and self-select. If you are using this to ask candidates to confirm the interview, they will have the option to confirm or decline, as well as provide reasons for decline.
Confirm Interview / Select Slot URL (Company Website) – This will function in the same way as above, but the landing page will be branded the same as your candidate portal.
Once you have selected the merge field from the Merge Fields drop list, you can finalise the email content and click send. The recipient will then be able to click the link and choose their preferred slot.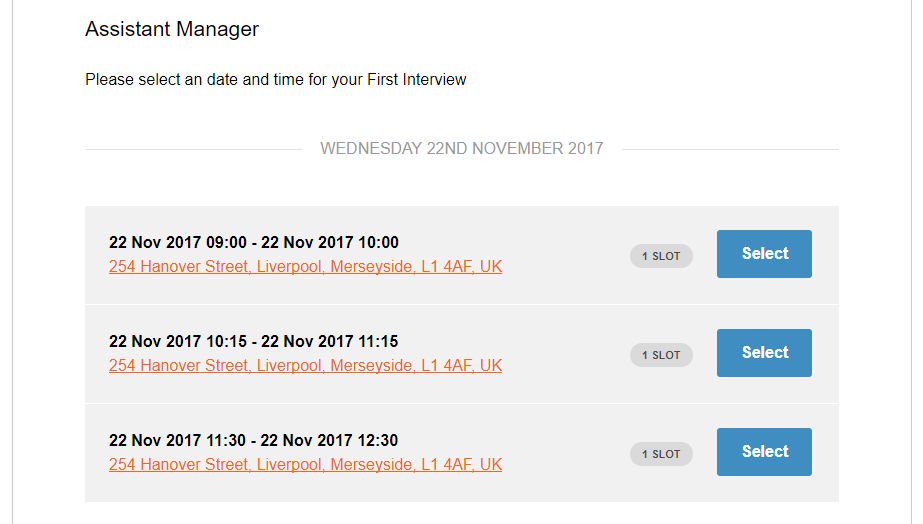 Note – If using the link for confirming an assigned interview slot, the candidate will have the option to either Confirm or Decline.

Once the slot has been selected, the candidate will show within the workflow as confirmed within the relevant stage of the workflow.