What are Skills?
Skills are effectively keywords used within Eploy.  Skills can be added in to the system manually, or you can decide to use existing skills identified by Eploy.
How are they used?
Eploy will scan your Vacancies to identify all skills which form part of the Job Description.  When viewing an Application, Eploy will tell you (as a percentage) how many of the identified Skills a Candidate has, and it will also highlight these skills for you right away.  You can also use skills as part of a Candidate Quick Match or Query Builder to quickly find Candidates within your Talent Pool who have the skills you need.
System Identified Skills
Eploy will automatically scan all Candidate CVs as they are imported and identify common keywords, flagging them as potential Skills.  To view these potential skills, navigate to Admin > New Skills.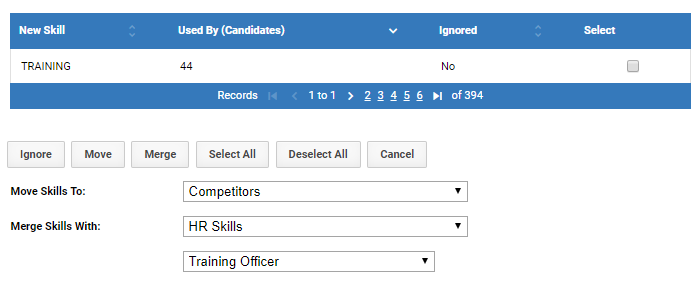 Here we can see the skill identified by Eploy, the number of Candidates within the Talent Pool with the skill and whether we have told Eploy to ignore the skill i.e. we have reviewed it already and decided it's not a skill we're interested in.
To set this as an active skill, simply select the skill then decide whether we want this to be a skill, or a synonym of an existing skill.
To set it as a Skill, use the Move Skills To drop down list to select the group you want the skill to appear under and click Move.
To create a synonym, use the Merge Skills With options – the first drop down identifies the skill group, with the second drop down being the skill you wish this to be a synonym of.  When you have made your selections, click Merge.
Creating Skills
To create a new Skill (one not already identified by Eploy), access either a Candidate or Vacancy record (it doesn't matter which), and click on the Skills tab.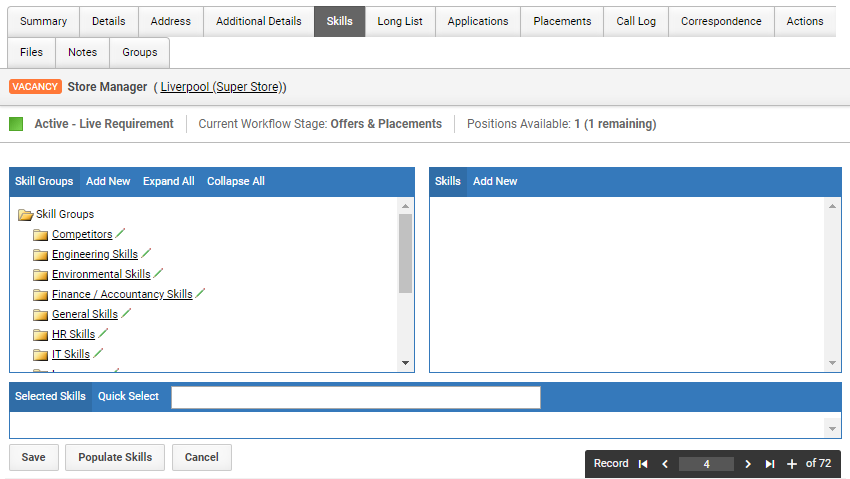 To create a new skill, click Add New (in the Right-hand box).  Enter the name of the skill, select a Group and tick Populate Skills – this will ensure that as soon as you click Save, all records which have this keyword will automatically have this skill associated with them. 
On clicking Save, if the skill already exists, one of two things will happen:
If the skill is one which the system has identified but remains a potential skill, you'll be asked to move the skill to a Skill Group
If the skill has already been created you will receive an error message
If the skill doesn't exist, the screen will refresh giving you additional options:
It will tell you how many candidates have this skill (now that it has been identified as a skill)
You have the option to merge the skill with another, making this skill a synonym of another skill
You have the option to identify other skills as synonyms of this one – as you add synonyms, ensure you click Populate Skills before clicking Save
Finally, when viewing the Skills tab of a Vacancy, clicking Populate Skills will scan the Vacancy and add any skills the finds.  Note: Eploy will only identify skills contained within the About the Role, Notes/Brief for Recruitment Team and About the Company sections.
When creating a new vacancy, always select Auto Populate Skills.  With this selected, Eploy will automatically scan the vacancy and attach any skills it finds.