Those with the relevant admin permissions, will be able to access the Rules module by navigating to Admin > Rules on the blue Eploymenu. This will show all of the currently active rules in your system and includes a short description for each.

Hint - Due to the number of rules used across the platform, the filters can be really useful for identifying any specific rules. You can type search in the description, or filter for those that are in test mode etc.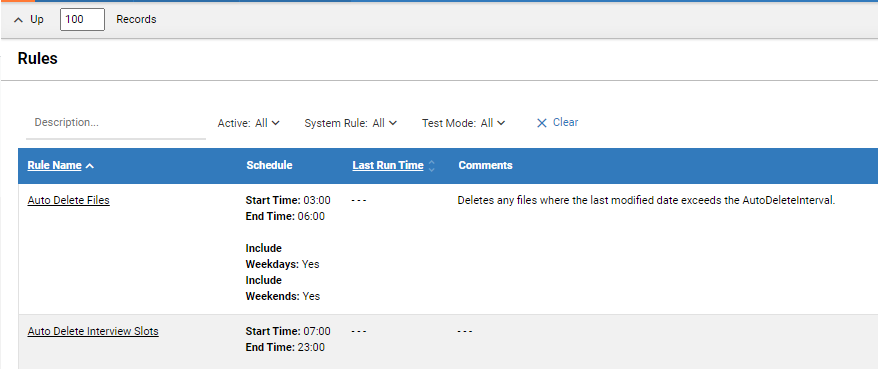 From here, you can click into each rule to view the description, an example of the rule content and the rule schedule.
Test Mode
Test mode is a great way to ensure that the rules are working correctly, without inadvertently sending emails to contacts or candidates. By putting a rule into test mode, the rule will still run as normal, but all notifications will be sent to a specified email address - meaning that you can review the rule performance from the recipients perspective.
Note: putting a rule in to Test Mode can only be done by the Eploy Support team. Please contact us if you'd like to do this.
FAQs
Can I create New Rules? It is not possible for a user to create new rules in the system, but Eploy does offer certain bespoke notifications. Please contact Eploy Support for further details around new rules and the options available.
Can I edit the content of a rule email template? There are certain rules which allow you to manage the content of the email within the system. This can be done within Contact Templates > Email & SMS Merge / Candidate Notifications
Can I see who the rule has contacted? Within the Rule History tab, you can see all recipients of this rule, meaning you can track who has been contacted and when. Please note that some rules generate 1000's of emails, so the rule history may have 1000's of entries!
Can I trigger the Rule to run again? There are options available, either within specific rules or from the rules grid, which will allow you to Run Rule / Run All Rules.
Note - Running a rule will not re-contact any recipient, as they are only contacted once by each rule. Certain rules, like reminders, will re-contact people if they have not actioned as required, however this is on a schedule and you can not force it through.