There are a different ways for you to add skills into your database, using either New Skills or Bespoke Skills. Use this guide to help you decide how best to populate your skills database, including how to add synonyms and increase the efficiency of your skills.
To jump to a specific section in this guide, please use the links below:
New Skills
New Skills is an entire area of the system dedicated to managing all of the suggested skills on your database. This allows you to analyse the keywords used by your candidates & vacancies, decide which are valuable & such be moved / merged into the database & ignore those words that you wouldn't consider to be a skill.
To access this area of the system navigate to Admin > New Skills.
Straight away, you will see a global list of potential skills - each keyword detailed has been lifted form a CV on your database and includes a count of the number of different candidates who have used it.
Hint - This is a great place to start if you aren't sure what skills your should be looking for or just need some inspiration!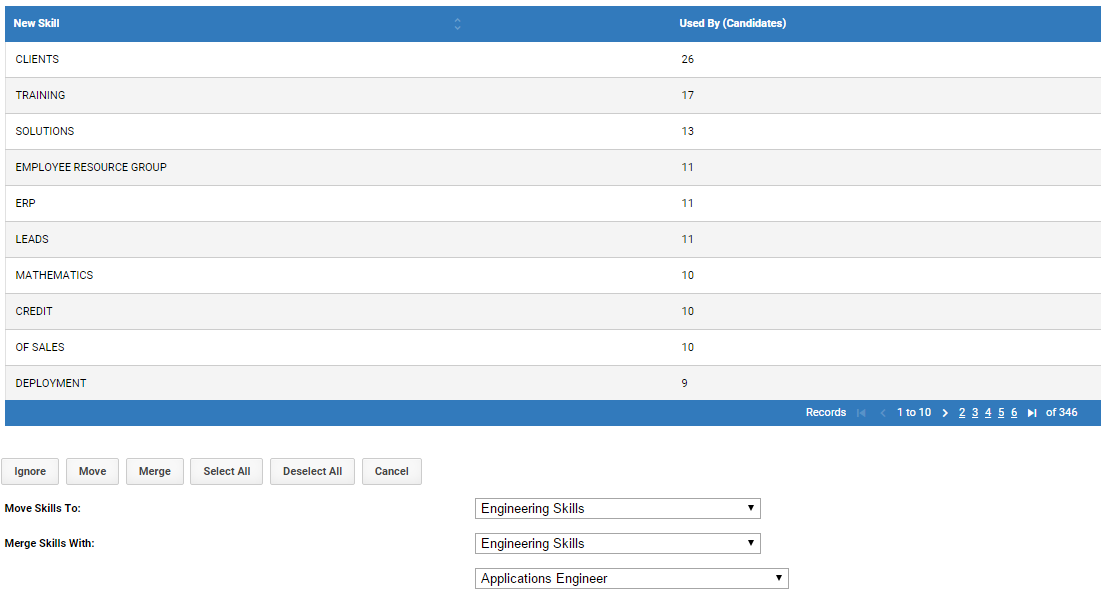 Down at the bottom of the grid, you will find the grid controls, which allow you manage these key words:
Ignore – this will flag the keyword as something you aren't interested in and will allow anyone who uses New Skills to see that this has been considered but deemed surplus to requirements.
Move – This will add the skill to the selected skill group & will add the skill automatically to matching existing candidates, enhancing your talent pools.
Merge – This would merge the keyword with an existing skill, creating a Synonym, making it easier to search & manage. For example, you may consider Admin to be a synonym of Administration - by merging the two together, if the candidate has either phrase on their CV they will be attributed the skills automatically. As a user, you only then need to search for the one skill to find all relevant matches.
Using these options along with the skill group / skill drop down lists will allow you to very quickly add new skills to the database, tidy up synonyms and manage your skill structure.
Note: before you can use the Merge and Move features, the Skill or Group you want to move/merge the selected skill to/with must first be added to your Database, which is described below.
Bespoke Skills and Skill Groups
Whilst New Skills is great for that overview & inspiration, Bespoke Skills are perfect for when you know exactly what you want. These can be managed within the Skills tab of any core record, such as a company, contact, vacancy or candidate.
Note - When you click into the skills tab of any record and create a new skill, you are not assigning the skill to that record, you are simply using the interface to create new skills. The skill can be added to the record if you wish, but the management of skills can be done within any Skills tab.

Skill Groups
Once on the skills tab, you can choose to either add a new skill group or an individual skill record. To add a skill group, select Add New from the menu bar of the folders section. This will then open a new window, where you can populate the Description / name of the group. You can also create structured groups, by selecting a group to sit within another.
Hint - Skill Groups are used to help you organise and identify the skills you need. They wont restrict candidates from getting skills from different groups. We recommend that you avoid creating groups based on industry or position, as often skills would transcend a number of different roles etc. Instead, groups for qualifications, certificates or even competitors work best.
Bespoke Skills
When you are ready to create a bespoke skill, you can click Add New on the skills table. Again, a pop-up window will allow you to enter the text description (so the keywords you are looking for), along with assigning the skill group. This will also include a tick box for Populate Skills, which will search the candidates on your database once you click save.
Hint - Clicking Save will add the skill to your database - if it already exists or if the skill is found within New Skills, follow the instructions on screen to move the skill into the new group.
Once the skill has been added, you can click back into the skill, using the edit icon. From here, you will be able to change the description, move groups and add synonyms of the skill.