With Eploy's reporting and analytics suite, you can very quickly access all the key information about your recruitment processes; from dashboard for instant access to tracker reports for downloads and exports, you can report on all activity with your Eploy database.
Your company structure however can mean a greater depth of information is required, especially when looking at the performance & activity of entire regions or departments. With Eploy's latest updates, you can now create dashboards to show activity on a structural level as well as export information to include parent relationships.
Understanding the Company Structure
Within any company, you can access the structure tab to see where within the organisation a company sits and how it relates to other companies within your structure.

The structure is used as part of the vacancy authorisation processes, assigning hiring managers to additional roles and for requisition templates within your Hiring Manager Portal. It should look something like this and include all companies within your structure: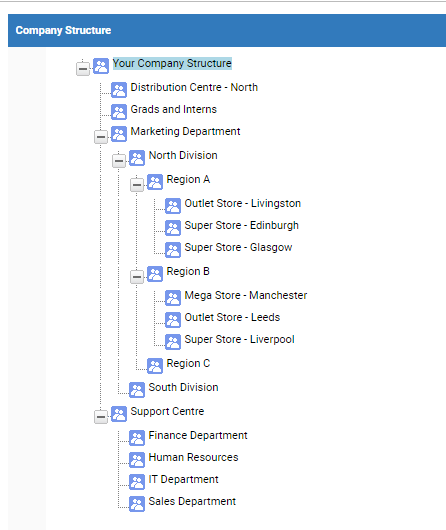 Organisational Structure Levels
With a structure like this in place, you can now report on activity throughout the organisation. For example, not only can you see roles per department or company record, but you can now group activity per level of the structure.
Level 1 will be the company head office or the top of the structure.

Level 2 would be the departments or regional offices that sit one level down from the parent structure.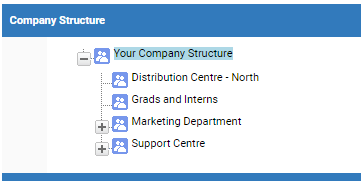 Level 3 then shows the divisional offices that sit on the next tier of the organisational structure.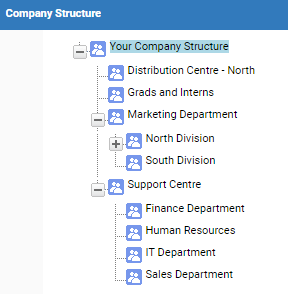 The remaining Levels are dependent on your company structure and the depth of the organisation. As you add addition layers, more levels become available for reporting.
Dashboards & Widgets
There are two new features available within our dashboard suite that will allow you to report on your company structure:
Group By Level – This option is available within adding & configuring widgets whilst choosing to group by Company Name. When selecting this option, you can then set which Level to group by. This allows you to see all activity from the companies on your chosen level, grouped together with all companies that sit beneath that record within the company structure.

Include Children Metric Filter – This allows you to focus on specific areas of the company structure, by filtering for individual companies and choosing to include all companies beneath it within the company structure. To do this, simply click into a metric from the configure metrics menu and choose to edit the filter. You can then show all fields from the Company module, type the required Company Name and choose to Include Children before clicking add to filter.

Note – For more information on creating metrics or adding widgets, please see the Dashboard & Analytics section of the Knowledge Base.